GCVM News & Events

The citizens of Cuyahoga county have served the nation well, and paid a heavy price. When America needed defenders the men and women of Greater Cleveland have answered the call. Read More...


CBS Cleveland's Dave Ramos talks with Patrick McLaughlin, president of the Greater Cleveland Veterans Memorial, about Cleveland's War Memorial Plaza rededication. Listen...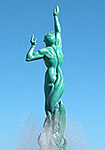 The Fountain of Eternal Life
Marshall Fredericks' majestic centerpiece of Veterans Memorial Plaza
Please Join Us...
Donations to the GCVM support ongoing and future activities on behalf of Greater Cleveland's veterans, past and present.

Find out more and donate...